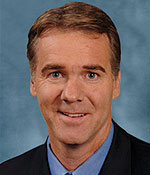 As a former Division I athlete and coach, Tim Capstraw brings a wealth of knowledge to Hilltop Management's collegiate consulting efforts.  In addition, with over 15 years of television and radio experience, Capstraw provides Hilltop broadcast and media clients with tremendous insight. 

Capstraw is a 1982 graduate of Wagner College where he was a letterman in both basketball and baseball.  One year after graduating from Wagner, he became the school's Head Baseball Coach. He would hold this job until 1986 when he became a full-time basketball assistant at Siena College under Mike Deane. When he became Wagner's basketball coach in 1989, he held the honor of being the youngest ever Division I coach in both basketball (28) and baseball (23).  During his ten year coaching career at Wagner, Capstraw was named the 1993 Northeast Conference "Coach of the Year" and won the 2000 Metropolitan Basketball Writers "Good Guy Award".

Capstraw's broadcasting career began in 2000 with the Northeast Conference, where he still calls selected TV games. During the 2001-02 season he was a television analyst for the Atlantic 10 Conference. In addition, Capstraw served as NBA TV's lead analyst for their Euroleague broadcasts and several other international championships, including the 2003 EuroBasket tournament, the 2003 FIBA Asia Championship, and the 2004 FIBA Diamond Ball Tournament.  In 2006, he worked on NBA TV's coverage of the Las Vegas Summer League.

Most notably, Capstraw just completed his 11th season as the Nets' radio color analyst on WFAN and the Nets Radio Network.

At Hilltop, Capstraw plays a key role in client acquisition and retention serving as the primary contact for several of the company's major collegiate consulting and broadcasting accounts.  His wealth of knowledge in collegiate athletics and administration, as well as his experience as a television and radio broadcaster bring a unique perspective to Hilltop projects.  

Tim and his wife, Chelsea, have two children, Ross and Kiley.