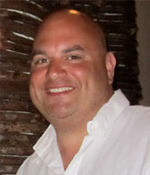 Matthew DeSantis brings over 15 years of strategic planning, negotiation, and analytical experience to the Hilltop Management team.  As a special consultant, Matthew works closely with Hilltop stakeholders, clients, and strategic partners to research, identify, create, and execute customized solutions aimed at creating more efficient, effective, and sustainable programs, brands and initiatives.  As a seasoned executive and an experienced negotiator, DeSantis has enjoyed success conceptualizing, developing, and leading new business plans for organizations, including: collegiate athletic programs, professional sports franchises, academic institutions, and non-profit organizations.
After receiving his Juris Doctorate from the Catholic University of America's Columbus School of Law in 1999, DeSantis began his career as the Director of Marketing for the Newark Bears Professional Baseball Club before moving on to become first ever Director of External Relations for the Northeast Conference, an NCAA Division I athletic conference.  At both stops, he was tasked with researching, developing, and executing the initial strategic plan and long-term marketing strategy for each organization.  As the primary contact for institutional and strategic partners, DeSantis was responsible for developing long-term partnerships, negotiating agreements, drafting contracts, and enforcing licensing deals.  In these roles, DeSantis worked directly with academic institutions (Monmouth University, Quinnipiac University, Long Island University, and Wagner College, among others), corporate sponsors (Choice Hotels, Gatorade, Adidas, Academy Bus) and media outlets (Cablevision, ESPN, MSG, Metro) in order to create viable and mutually beneficial partnerships, many of which still exist today.
For the past decade, DeSantis has served as a senior executive for a number of organizations in the sports, entertainment, and technology industries.  As the Managing Director for the Breakaway Corporation, an international sports gaming and casino developer, he was responsible for all day-to-day operations, including government and investor relations.  As the Senior Vice President, Analytics for Admit One, LLC, a secondary market ticket trading company, he created a proprietary analytical platform that allowed for dynamic ticket pricing, creating a commodity trading market that was unique to the ticket industry.  As founder and Principal of M.PhD Advising , a consulting firm that specializes in strategic planning, DeSantis handles negotiations, dispute resolution, and program development for non-profits, academic institutions, and small businesses.
Since joining Hilltop Management, DeSantis has played an integral behind-the-scenes role for a number of projects and clients.  He has served as a logistical point person for both the ALS Association Walks and the American Lung Association's LUNG FORCE events. In addition, he worked closely with Dave Popkin and Tim Capstraw on the NJIT Highlanders' successful bid to join the Atlantic Sun Conference, leading the research efforts and developing the presentation strategies that were employed by the project stakeholders.
In addition to a being Catholic University of America Columbus School of Law grad, DeSantis is a proud Syracuse Orange alum.  He resides in Asbury Park, NJ where he is a member of several community-based initiatives.