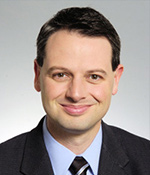 DAVE POPKIN is the CEO of Hilltop Management. Popkin brings over 20 years of marketing and management experience to the plate. Most recently, the New Jersey Shore native spent 10 years as a Partner in Positive Impact Partners, a marketing and events agency in the Meadowlands. He oversaw winning advertising campaigns for many clients including Seton Hall Basketball, Army Football, JAG Physical Therapy, The Orthopedic Institute of New Jersey, and Calandra Family Enterprises; and managed successful events and promotions for the IZOD Center, The ALS Association of Greater New York, The Valerie Fund, the Women's Heart Foundation, the Bruce Beck & Ian Eagle Sports Broadcasting Camp, and others. He worked on consulting projects for the MAAC Conference and several MAAC schools and also helped grow the Northeast Conference television package by adding affiliate stations across the Northeast.
Popkin began his career as a sports marketer, serving minor league baseball teams in Sioux City, Des Moines, and El Paso in a variety of capacities, including broadcasting, media and community relations, group ticket and sponsorship sales. He spent five years as one of the top ticket salespeople for the New Jersey Nets (NBA). As the Assistant General Manager for the Newark Bears Baseball Club, Dave helped hire and manage the team off the field that packed 3,600 fans per game into Riverfront Stadium in its first two seasons. He also helped assemble a team on the field that included relatives of five Major League Baseball players, creating tremendous national and local publicity. Following his stint with the Bears, Popkin spent over two years with sports marketing firm Positive Impact, Inc., where he managed public and community relations and other aspects of the New Jersey Storm indoor lacrosse team and consulted on collegiate, pro, and amateur sports projects. With the Storm, he spearheaded the signing of goalie Ginny Capicchioni, the first female player in NLL history.
Dave is also known as one of the most talented and versatile broadcasters in college sports. He has spent 11 years as the color commentator and fill-in play-by-play announcer for the Seton Hall Basketball Radio Network, 14 years as the Voice of Northeast Conference Basketball on MSG and other regional sports networks, and seven years as a play-by-play announcer for college football and basketball on ESPN3 and ESPNU. He also called eight different sports over long careers at CN8 -The Comcast Network and MSG Varsity. Dave is the former radio and/or TV voice of the Monmouth University Hawks, LIU Brooklyn Blackbirds, Atlantic 10 Basketball, and New Jersey ShoreCats (USBL).
Popkin's many skill sets include: event management, media planning and placement, creative direction, broadcast consulting and management, public relations, media relations, sponsorship activation, ticket and sponsorship sales and service, online marketing, website construction, retail promotions, in-game entertainment, voiceovers, and sports marketing consultation.
Popkin currently sits on the Advisory Board of Seton Hall University's Stillman School of Business Sport Management program and for four years taught a graduate level class, Professional Selling of Sport, in the Stillman School. He also sits on the Community Advisory Board for Bergen Community College's Meadowlands campus. In 2007, Dave was awarded the O. Lawrence Keefe Award for his lifetime media contributions to the Seton Hall basketball program. He annually serves as the Master of Ceremonies for Monmouth University's Sports Hall of Fame Gala and The Walk to Defeat ALS.
Dave is a Bruce Springsteen enthusiast who has appeared as a guest host on SiriusXM's E Street Radio channel and has seen The Boss over 75 times. The University of Miami (FL) graduate resides in Nutley, NJ with his wife and their two faithful dogs.